FABRIC CHOICES
Our standard fabrics: premium luxury spandex velvet, serpentine sequin, and the lycra/net choices are USUALLY available at all times.
But ALL fabrics may be temporarily unavailable at some point.
Budget Panne Velvet

Premium Luxury Spandex Velvet

Serpentine Sequin


Lycra/Net Color Choices

Featured Stretch Net Sequin & Burnout Velvets (limited availability)

Other Special Fabrics We Have On Hand (limited availability)
Contact us if you are looking for a color or style not offered and we can check availability.

---
BUDGET CHOICE: STRETCH PANNE VELVET - Custom fitted dress on a budget. This fabric is a bit thinner and less durable and tends to stretch in length as you wear it.
We use it for prototype designs but offer it as a budget conscious choice. Not preferred
---
PREMIUM CHOICE: SPANDEX LUXURY VELVET - Our preferred velvet for professional costuming. A bit thicker and dimensionally stable. Luxurious.
| | | | | |
| --- | --- | --- | --- | --- |
| Black Velvet | Charcoal Velvet | White Velvet | Dark Brown Velvet | Copper Velvet |
| Hot Pink Velvet | Wine Velvet | Purple Velvet | Navy Velvet | Turquoise Velvet |
| Christmas Red Velvet | Red Velvet | Paprika Velvet | Neon Orange Velvet | Yellow Velvet |
| Christmas Green Velvet | Kelly Green Velvet | Neon Lime Velvet | Gold Velvet | Neon Yellow Velvet |
---
EXOTIC CHOICE: SERPENTINE SEWN 2mm SEQUIN FABRIC - Fine 2mm sequin sewn on spandex shows the complete flashiness of a fully embellished gown while avoiding the bulky look on body that fully sequinned fabrics tend to have. These sequins are sewn (and not fused) to the fabric to give you premium wear over time regardless of how active a dancer you are.
| | | | | |
| --- | --- | --- | --- | --- |
| Black on Black Serpentine | Gold on Black Serpentine | Chocolate on Chocolate Serpentine | Copper on Black Serpentine | Gold on Golden Yellow Serpentine |
| Red on Red Serpentine | Silver on White Serpentine | Silver on Black Serpentine | Pink on Dusty Rose Serpentine | HOLO Red on Red Serpentine |
| Jade on Aquamarine Serpentine | Turquoise on Turquoise Serpentine | Royal Blue on Royal Blue Serpentine | HOLO Purple on Purple Serpentine | HOLO Merlot on Merlot Serpentine |
---
LYCRA/NET COLOR CHOICES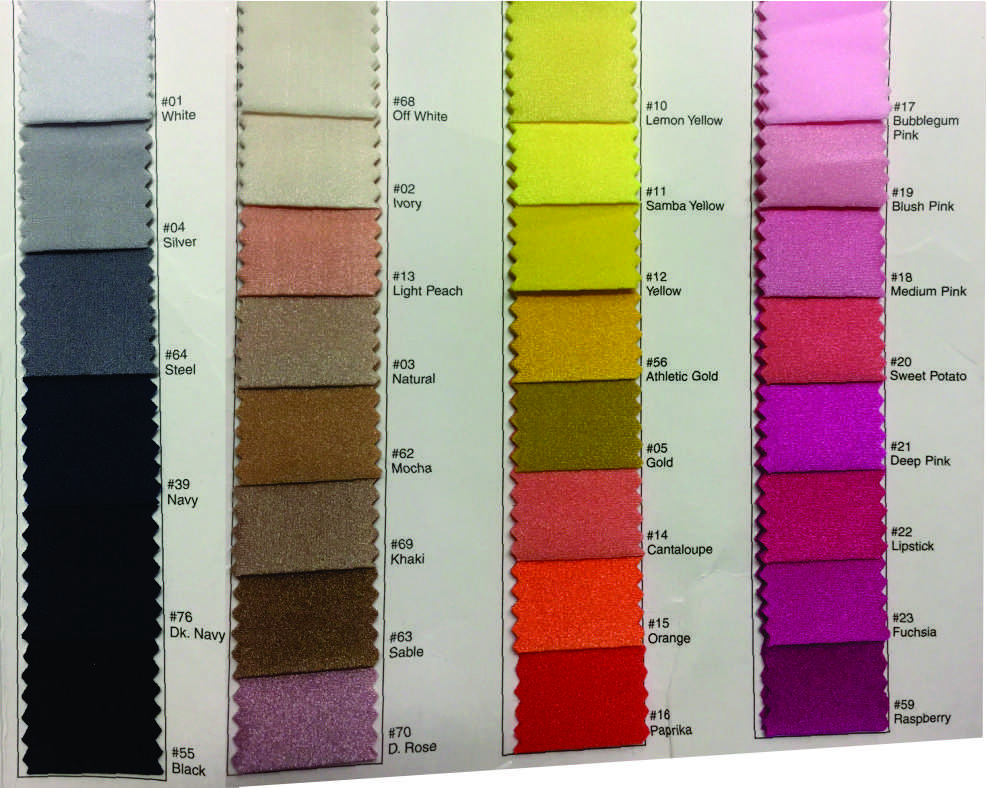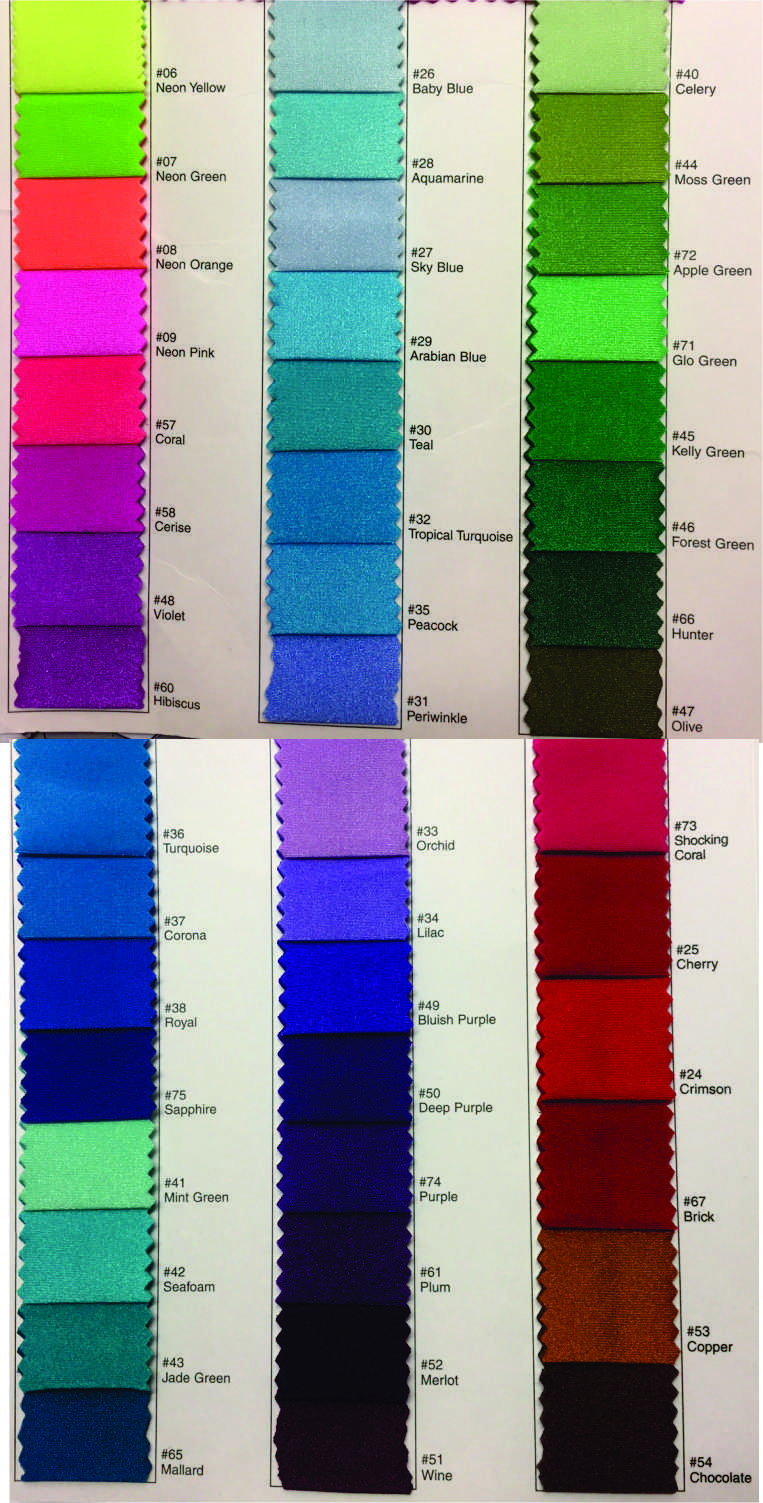 ---
FEATURED SEQUIN NETS AND BURNOUT VELVETS
---

AND OTHER FABRICS WE CURRENTLY HAVE ON HAND IN LIMITED AMOUNTS: